AWARD BY GOVERNOR OF MAHARASTRA​
We are glad to share that VRaZ Academy has recieved an award for 'Excellence in the field of Competitive Examination '. by the Governor of Maharashtra- 'SHRI BHAGAT SINGH KOSHYARI JI' at Raj Bhavan ,Mumbai
CERTIFICATE OF RECOGNITION ​
To Vikas Balasaheb Mahajan & Ramswaroop Choudhary Directors of VRaZ Academy For their achievement and successful journey that has added value to society and mankind as a whole.​
STUDENT CENTRIC INSTITUTE
At VRaZ we aim at building an environment that is student friendly and helps them in their overall development. We plan our curriculum according to the students potential which helps them achieve their 100%.
Highly Qualified Faculties
Our faculties are Doctors and alumni's of IITs, NITs and various other renowned institutes. They are young, dedicated and full of enthusiasm which helps them connect with students and understand their requirements.
Our students are provided with a self study room where they can sit and study after their lectures. It gives them a classroom environment for their self study and increases their productivity.
VRaZ alumni's are in renowned institutes so we keep various guidance and motivation sessions by them for our present students that helps them in their preparation. Even after our students reach their colleges our alumni's are always available to support them and guide them in their journeys.
Limited Students per Batch
Our batch strength is limited to 30-35 students so that our faculties can give personal attention to each and every student.
We encourage our students to reach out to us if they face any difficulties regarding their studies or preparation and keep regular one to one sessions with the students to understand their issues and work on them.
KEY FEATURES OF VRAZ ACADEMY
VRaZ has been able to produce the best success ratio for 3 consecutive years only with the help of our dedicated faculties and immense hard-work of our students.
We conduct unlimited practice tests for our students and keep regular discussion of these tests so that they can analyse their performance and improve with each test.
Our booklets are equipped with sufficient practice questions and PYQ's (Previous Year Questions) of each topic so that our students have enough material to practice and they can focus completely on one material.
VRaZ is not just a name, it's a student-oriented institute
founded with great enthusiasm by the lIT-ians to guide the future lIT-ians. We believe that education plays a vital role in one's life. Choosing a place where students can educate themselves can be a task, but we at VRaZ ensure, that we provide ample opportunities so they can grow in their talents and explore themselves to their fullest. Starting from a pre-joining webinar to college admission, we stand by them. We aim to direct each student to achieve their personal best by allowing them to develop at their own pace. We involve various steps in our academy like deep learning, creating a friendly and competitive environment, working towards students' satisfaction, and building their personalities. From personalized tutoring to weekly tests, we prepare them for every step of life.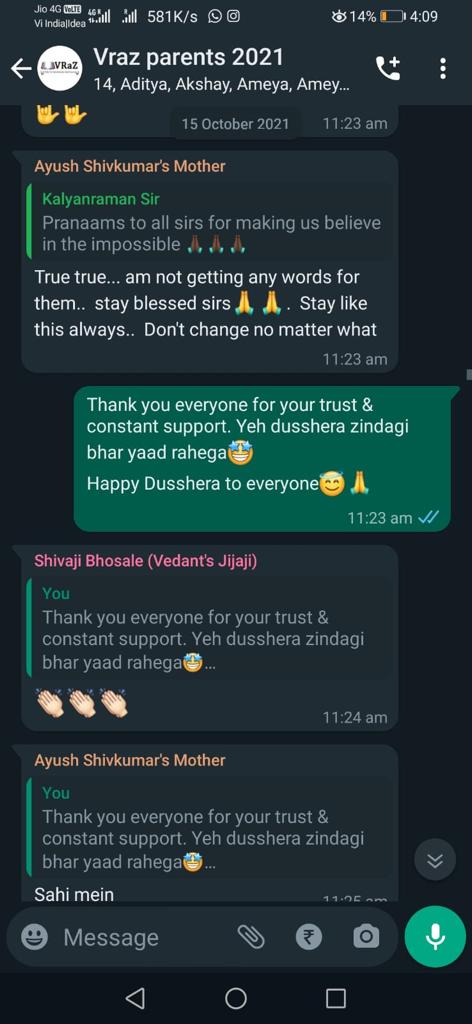 This is the best institute for the JEE(Mains and Advance) preperation because there are limited batches and students.There is a friendly and funful atmosphere. Faculties are available 24/7.Interaction is also very good .
SHUBHAM MADANE
2022-11-17
VRaZ Academy is Best Academy for IIT-JEE Preparation. All Faculties are IITian so they can understand the ups and downs of this preparation so they help us accordingly to extract student's highest potential required to crack this Exam Personally as a student of VRaZ Academy I have experienced this things which lead to Improve My Scores of Every Mock Tests
202 Vaishnavi Gaikwad
2022-11-10
•I am studying in VRaZ from last 2-3 monthes and I got that the teaching here is the best.👍🏻👍🏻👍🏻💯💯💯 • The teachers are in direct contact with students ,always there to solve the queries of students.📞📞 • 24/7 open for studies . •regular basis test after the 📝📝completion of each chapter and paper discussion after it , doubt solving,etc •inforfation provided by Booklets of each chapter with detailed MCQ's . • Faculties here are very nice.
VRaZ endeavours to bring an environment for students which not only helps them in their overall development but also motivates them to achieve their full potential. It is a student centered establishment which also focuses on creating a team which resonates with our vision so that we can reach more students in need of quality education.
Call Us: 8828365777, 8828278777
Mail Us: info@vrazacademy.com